---
The Three Parts of this Tutorial

A Single-Agent Sequential Decision Problem

Representation and Strategies in a Sequential Game

Sub-Game Perfect Equilibria

Cooperation in the Infinitely Repeated Prisoner's Dilemma

Level-k in the Beauty Contest Game

Solving Static Games with Gambit

Solving Dynamic Games with Gambit
7.2 Level-k in the Beauty Contest Game » Quiz Solution
Lesson 8 : In the game below, suppose that the level-0 strategy for player 1 is to play C and the level-0
strategy for the player 2 is to play S. Will players of the same level ever play the same strategy?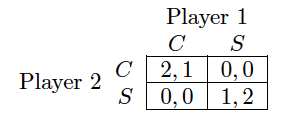 (a) Yes
(b) No
Explanation: Player 1's level-k strategy is to play S when k is odd, and C when k is even.
The opposite is true for player 2.